I am going to keep this short and sweet. This is a trick that I picked up a while back, and had to use recently so thought I would document it here.
Warning! You are probably about to delete a huge amount of email, don't be an idiot.
This method is mainly for when you have a HUGE amount of emails and don't feel like deleting them a hundred at a time.
I'll start with this illustration, and then talk a bit about it.
Step 1: Go to the Gmail search bar and enter in today's date or the date you want your email deleted from. So if I want everything from today deleted I would enter:
before:2015/05/22
Meaning – delete everything before May 22, 2015.
Step 2: Check the magic box. The key here is you will see a notification that says "All conversations in this search are selected."
This basically means all 10,000 emails are selected, not just the default 50 or 100 emails that you see on your screen.
Step 3: Click the trash button. You will probably get a warning which you will need to affirm. Once that happens it might take a minute or two. I just deleted almost 10,000 emails and it took about 2 minutes.
You might get a "still working" message while you wait.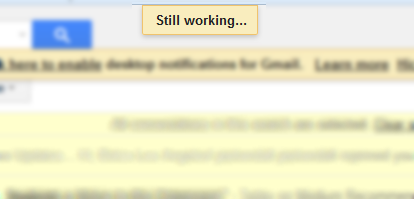 Other thoughts on mass deleting a lot of Gmail messages at once
You can use this method to do a bunch of other stuff such as archive your email, mark it all read, mark it unread, or delete it.
Please note that if you are using this method with a connected email + domain, this may or may not delete the email off your server depending on your mail server setup.
You've been warned, but let me warn you again. Think before you hit that delete button, because you ain't gettin' those emails back.