Today we need to revisit an important lesson in SEO history: social bookmarking. That is, for those of us joining the SEO industry in the last decade or so.
I normally don't do posts like these, but after a Reddit thread that struck a nerve with me, and a conversation with a colleague from Process Street via email, I felt the need to publicly express some of my feelings, as well as clarify some of this terminology for once and for all.
To kick things off, let us technically define what social bookmarking is, and was:
Social bookmarking is a centralized online service which allows users to add, annotate, edit, and share bookmarks of web documents. Many online bookmark management services have launched since 1996; Delicious, founded in 2003, popularized the terms "social bookmarking" and "tagging". Tagging is a significant feature of social bookmarking systems, allowing users to organize their bookmarks and develop shared vocabularies known as folksonomies.
If you don't like Wikipedia's definition, lets take a definition from our good friend Network Solutions:
Social bookmarking is a way for people to store, organize, search, and manage "bookmarks" of web pages. Users save links to web pages that they like or want to share, using a social bookmarking site to store these links. These bookmarks are usually public, and can be viewed by other members of the site where they are stored. Examples of social bookmarking sites include del.icio.us  and digg.com .
In short, a social bookmarking website allowed users to log on, and curate lists of websites that they found useful. It is a way for people to bookmark websites on the web. This was all prior to web browsers that allowed you to sign in to a central account service and view your browsers bookmarks from one computer to another, or at least before it was popularized.
In other words, social bookmarking was a way to have your local bookmarks on Firefox, Chrome, Safari etc in the "cloud" if you will.
The best example of a social bookmarking website was probably Delicious. With Delicious or Del.icio.us one could sign up for an account and add websites that they wanted to save for later.
Those profiles could then be set to public where other folks could view, copy, share or visit the websites. There is a voting system, where you can up/down vote these websites and comment on them as well. I won't even get into Digg.com in this post, that is a whole other subject. Once people realized you could manipulate this system for referral traffic and get a solid link out of it, a great shit storm ensued.
Now, what made these websites notable from an SEO perspective is they allowed people to quickly and easily create massive amounts of links on "high PR" domains. Savvy users would use a multitude of tools to automate this process including the creation of emails, signing up for accounts, adding links, comments, and up-votes. There were dozens of tools to do this, one of the most popular ones included: Sick Submitter, Bookmarking Demon, Bookmarking Robot and many more. Not that I ever used any of these.
In an afternoon you could easily accumulate a few hundred "quality" links for your website. I did it, and pretty much every other SEO on the face of the planet did it. It really wasn't even considered taboo at the time because it didn't have the stigma that it does now. You could also buy them for mad cheap. Anyone else remember river's social bookmarking service?
It was very common for people to trade lists of high PR social bookmarking websites that they could load into their tool or "manually" post their or their client website to.
These websites were the antithesis of spam. In fact one of the most prominent social bookmarking websites of the early 2010's Mr-Wong.com issued a "statement to Google Spam team" (hows that for a laugh):
Dear Google-team,

we know that linkpolitics of websites with user generated content like Mister Wong are important to you, so we would like to act completely compliant to your policies and guidelines. Therefore all our user accounts and external links are set to "nofollow" for the time being.

Nevertheless, long-time users whose content and links have been proven to be trustworthy and of high quality for a constant period of time will receive "trusted" status and their links will be set to "follow". Through this Mister Wong is able to contribute to Google's search of quality websites.

This procedure comes to pass in accordance with your guidelines as noted here /web/20120311060649/http://www.google.com/support/webmasters/bin/answer.py?hlrm=en&answer=96569, mentioning the following: "If you want to recognize and reward trustworthy contributors, you could decide to automatically or manually remove the nofollow attribute on links posted by members or users who have consistently made high-quality contributions over time."

Should we have set an account to "follow" of which you think that this is not justified, please send us a message via our contact form. We will verify the authenticity of the message with the help of your IP address.

Thank you
I was able to dig up a screenshot thanks to archive.org of someone's profile from Mr Wong.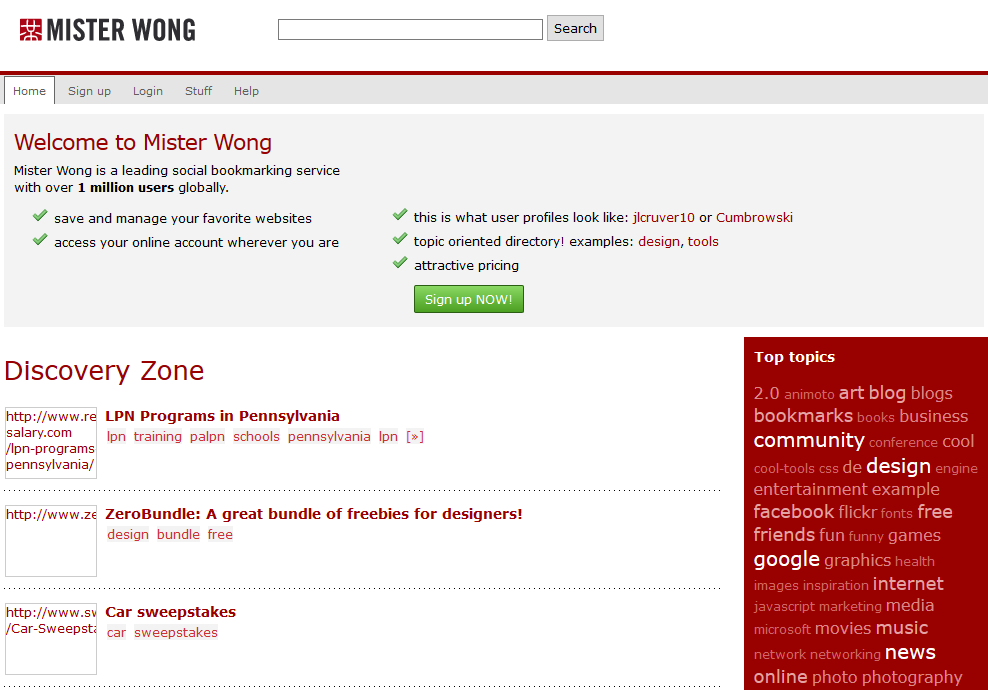 Seeing a front page like this was pretty much the norm in 2010. You'd have links for electricians mixed in with LPN's, website designers, gambling, porn, pharma…whatever. A true free for all.
From that point on, the term social bookmarking became bastardized. Even if you wanted to use a reputable social bookmarking website for your own bookmarks, they were all meshed in with the rest of the spam. The truly reputable websites no-followed all links, but that really didn't matter because at that point they were all on huge lists being traded on all of the forums, so it didn't matter.
Clarifying the Confusion
I think one reason a lot of people confuse sites like Delicious and Inbound, is they both allow you to share websites and upvote things. But there are major differences between the old social bookmarking websites, and modern day social networks.
Websites like Reddit, Inbound etc are not intended to be an online bookmark or "social bookmarking" website nor do they self-identify as social bookmarking websites. I personally would classify them as a social network, community, etc.
Another reason why sites like Inbound, Growth Hackers, etc are known as social bookmarking websites is people keep putting them on social bookmarking lists. Even in 2016, people are still doing it. I don't know why. It all gets marked as spam.
Social bookmarks are in fact dead, but really only for one reason, netizens save and curate URLs in much more sophisticated ways such as:
Chrome / Firefox accounts
Trello
Google Keep
I suppose I can see how websites like Reddit and Inbound can be viewed as social bookmarking sites. Yes, you can share a link to them and up-vote but the same can be said for almost any web 2.0 website. You can share and "vote" on Facebook, Twitter, Pinterest, even 4chan.
The other big difference between those older social bookmarking websites and modern day social networks is community moderation. As a moderator of Inbound.org, I can attest to the fact that people still try and use Inbound as a platform to place links. Every day, all day you see people submitting nonsense and every day one of the moderators (or Aksimet) will pound them into the ground. 2nd offense, you get permabanned.
The same goes for Reddit, you have moderators for each sub-reddit, and normal users can mark comments and threads as "spam." Even the slightest wiff of something spammy will get drop kicked in the temple with a swift click of the mouse. Even the savviest of savvy marketers know how hard it is to trick Reddit users.
The stigma
The term social bookmarking carries a certain stigma, a negative one at that. Most people I know stopped using this term completely. I don't know why it has stuck around or made a comeback.
Perhaps it is the guilt we all feel from shamelessly spamming the web for years? Is disavowing and running white-hat agencies and consultancies our way of atoning for our digital sins?
Either way, if you are still using the term "social bookmarking" you'll probably get a few disappointed looks from your colleagues. I invite all of you to find a new term for these websites, whatever you wish.
Lastly, while these websites may in fact be dead, let us always remember their place in SEO history.