In 2013 ICANN announced that they would be expanding the current TLD system from about 20 or so domains (.com, .net, etc) to over 1400 domains.
For an internet savvy fellow like myself, this opened up a world of new opportunities. No longer would we be forced into the ".com" system and people would freely choose from this massive pool of domain names for their blogs, business websites, and other ventures.
But it didn't really happen like that. Out of the 1400 or so planned, only half of those have "launched."
How does one become a domain regristrar?
You start with a whole hell of a lot of red tape, application fees, tons of applications, documents, notarization's, and all sorts of verifications. Don't forget cash:
$11,000 in yearly fees
$70,000 in working capital
$3,500 application fee
$500,000 professional liability insurance
Let's not forget the cost of running the business such as operating expenses, servers, data lines, etc.
When it is all said and done, a domain regristrar can make some nice profit. ICANN only charges about $3 / domain so when you see people like Network Solutions charging $30 and up for a domain you can see why this is a huge business.
New gTLD's are owned by private entities
This is where things get kind of crazy. Let's say you own a major flower company, it is perfectly legal, and allowed for you to register .flowers. Not only do you control who is able to register for this new gTLD, but you can get "first dibs" on it as well. So you can register:
http://best.flowers
http://cheapest.flowers
http://prettiest.flowers
…and so forth.
Now lets get specific. Progressive insurance applied for .INSURANCE some time this year. Can you imagine all the fun they could have with that domain? You can see part of their application process here: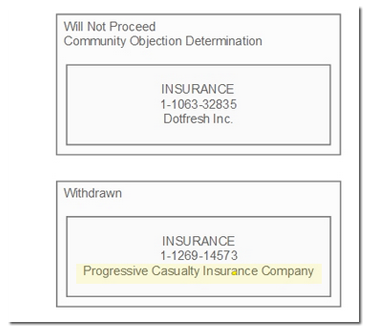 You can read up on what company's are registering new gTLD's by following the contention sets on the ICANN website.
There are times when there are multiple applications, contention, confusion or some other matter that causes for a gTLD to come up for auction. When that happens it goes to the highest bidder. You can see here that Johnson & Johnson won .BABY for over $3,088,888 and .APP was sold for $25,001,000.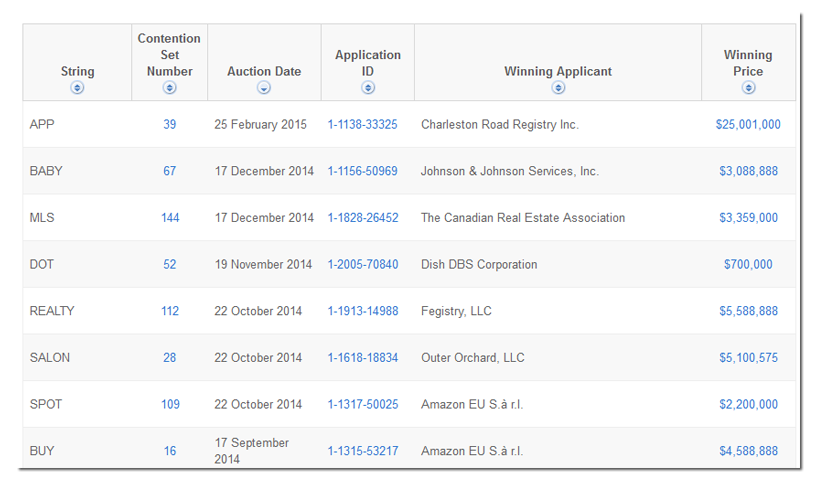 You can see more auction results on the ICANN website.
 Current list of new gTLD's
I've been maintaining a list of gTLD's on the Elite Strategies Tumblr over the course of the last year or so, mainly for my own use. In addition to this list, I've uploaded several sorted lists to this server.
List of gTLD's sorted alphabetically (.txt)
List of gTLD's sorted by character length (.txt)
The current breakdown (~681 in use)
248 - 2 letter domains
91 - 3 letter domains
98 - 4 letter domains
82 - 5 letter domains
82 - 6 letter domains
67 - 7 letter domains
44 - 8 letter domains
18 - 9 letter domains
18 - 10 letter domains
11 - 11 letter domains
2 - 12 letter domains
1 - 13 letter domains
1 - 14 letter domains
Now where it starts to get interesting is when you start looking at domain names that end in 7-8+ letters.
Currently the longest TLD is .CANCERRESEARCH
Example: .Healthcare
Congratulations, you got a healthcare domain. Not so fast, let's look how ridiculous some of these usage cases will be.
For example:
http://www.myhospital.healthcare
Just does not look right, and is most likely going to confuse the average person.It gets even crazier when you start adding subfolders and files to the URI:
http://www.myhospital.healthcare/research/treatmen-plans/index.html
Adding insult to injury, lets look at an email address from that domain:
How many emails do you think this guy is going to miss? Not to mention, how will it fit on his business card.
Fact: people are used to a certain email naming convention, and that typically ends in .com, .org, .net or a country code. Start throwing words like "Bnpparibas" or "Marriott" into a domain name and I guarantee you'll have some mayhem.
It all comes down to user experience (UX)
When most people think about UX they think about their website theme, load time, colors, font and photos. A company URL can be a huge part of a user experience, for better or for worse.
UX URL Example: a Yoga Studio
Let's say a Yoga Studio URL is currently
http://www.123-hot-yoga.com/
With the new gTLD system they could easily register a gTLD such as:
http://www.delrayhot.yoga
or even get creative with subdomains:
http://delray.hot.yoga
In this case, a new gTLD would most likely benefit users by making the URL easier to remember. It would also benefit the company in the same way, being that users can easily remember the domain name for longer periods of time.
While this style of domain might still be new to a lot of people, a shorter domain is bound to catch on with some people.
Ok let's think about this: Amazon purchased .BUY for several million dollars. Why aren't they using it?
Could it be they are afraid it won't catch on? Users will hate it?
It most likely comes down to the fact that they think it will interfere with their revenue stream, and don't want to mess with what is currently working.
Or maybe they just decided to make a bet and spend a fraction of their reserve on a gTLD they can own themselves.
My opinion
I think we have a mess on our hands from a global organizational perspective. I beleive that TLD's should be short, general, and categorical.
A domain name should be short and easy to remember.
Remember, URL's are meant to be shared offline as well, this includes:
billboards
TV commercials
business cards and flyers
scraps of paper
labels
URL's are already long enough.
Brand / company names in a TLD is a bad idea
To me it really poisons the spirit of ICANN, and that is one of neutrality.
Good:
Not so good:
The .com boom was much different than what we are seeing unfold before us. Practically all of the domains that were registered in .com were done so out of innovation and necessity. These new gTLDs are mainly registered as speculation and as a defensive means so "someone doesn't steal my idea / brand name / catchy TLD."
Final words, I think some of these new gTLD's can be catchy. I think some will catch on, others will die out. I think a large percentage of the 6 character+ domains will fizzle out, while shorter, catcher domains will remain as they catch on. Only time will tell.