Obligatory about me stuff
I'm an internet marketer by profession, and have been self-employed for over 5 years. Past accomplishments include US Navy veteran of the USS Boxer also studied Computer Science at McCann School of Business in Pottsville, PA.
I moved to Florida in 2005 and founded a glass company during Hurricane Wilma which I kept open for about a year or so. After that I picked back up on web development and started getting into affiliate marketing and search engine optimization.
My Book
This year I published my first book titled "Learn SEO: An On-Page SEO Tutorial." It was a huge learning experience and definitely gave me a lot more respect for people in the publishing industry. I made so many mistakes and there was a lot I would have changed, but it came out really well. You can get the paperback or the Ebook version from Amazon.
Work and Business
During this time I started doing SEO consulting on the side. Once I realized I had a viable business model I founded Elite Strategies an SEO Company (in late 2010) on a whim and a prayer. Within a year we had a solid client base, great staff, and was generating our own leads. We are now almost into our 5th year and running strong!
In 2014 I co-founded All Hands Hosting, a company built based on the fact that I've been hosting small businesses for almost 10 years and "why not."
I've developed a number of apps and websites including an app for SEO's to use JSON-LD markup, an SEO Intranet, and an active list of Shark Tank contestants and their websites.
Blogging
I'm really into SEO blogging. I blog about SEO and most of my rants are done right here. I also blog on our company SEO blog. I've guest posted on many different sites including Moz, Search Wilderness, SerpWoo and Inbound.org.
In early 2016 I finally put pen to paper and "wrote the book on on-page SEO." You can buy it for $4.99 but if you send me a nice email I might just send you a copy 🙂
I do not blog just to blog. I write about things that truly interest me, and things that I think matter. I try not to write about things that have already been written about.
Personal

I have an awesome wife who I met here in Florida and we have a beautiful son who is now 5 years old. My wife Jacquie joined our company after she left her job as a marketing director to come join the family business. She comes from a marketing background and has represented some insane brands in NYC, LA and Miami.
My hobbies include fitness, woodworking, electronics, photography, nutrition and design.
I'm just a normal guy that gets to do what he loves for a living.  I really couldn't ask for more.
If you are interested in contacting me hit me up.
Don't Feed the Robots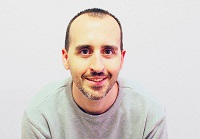 Patrick Coombe
Elite Strategies
CEO
Patrick Coombe is a practitioner of search engine optimization, inbound marketing, and user experience optimization.